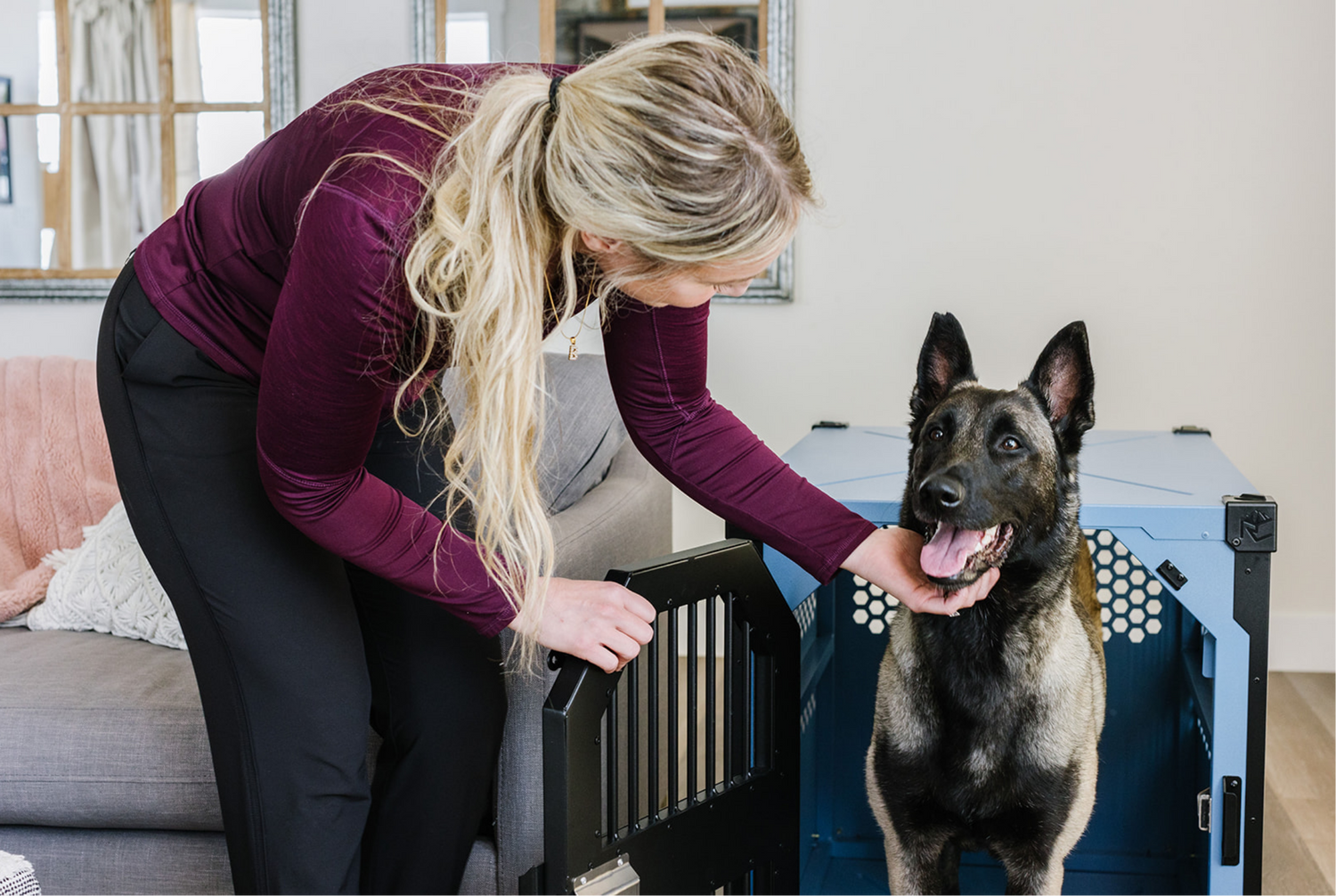 Get in Touch Today!
While some of your dogs could probably track us down, there is an easier way for us to connect so we can answer your questions.

HOURS:
Monday - Friday: 9:00 am-5:00 pm MST

PHONE:
435-760-7802

LOCATION:
695 W 1700 S Bldg. 28 Suite 110, Logan, UT 84321
Common FAQ's
My dog has: crate/separation anxiety, is an escape artist, or is a large breed with high drive. Can this crate help?

Yes, Rock Creek Crates are engineered to hold up to the strongest dogs and outlast other dog crates. Rock Creek Crates are built with an internal welded aluminum frame. This frame acts as a rugged backbone for your crate adding unparalleled strength, structural integrity, and safety. All external features connect directly into the frame giving your crate extra support where needed most. For high anxiety, escape artists, or large/high-drive dogs we highly recommend adding a door guardto your crate.
What is the right size crate for my dog?

View our size guide to determine the best fit for your K9.
Do your crates have a warranty?

Yes, we offer a 10 year warranty on every crate. Learn more.
Do you offer financing options?

Yes, we offer financing through Affirm. Click here for more details.
Can I order a custom color?
Can I switch the direction of the door?

Yes! Our crate doors normally open from right to left. However, if you request it, we can switch the direction it opens. Contact us with your specific needs and we'll customize your crate to suit you and your dog.
Do you offer custom crate sizes?

The aluminum skins we use to build our crates are specifically designed for our listed crate sizes. As a result, we are unable to make custom sizes. We have a list of awesome people who make custom sized dog crates/kennels. Reach out to us and we'd be happy to share their contact information.
Can I take a Rock Creek Crate on a commercial airline flight?

The stationary crate can become airline compliant with the IATA kit, which can be found on our Accessories page. Each airline has specific requirements for flying with pet cargo; we highly recommend contacting your chosen airline in advance.
Are your crates crash tested?

Yes! We have the only aluminum dog crate to receive a 5-star crash test rating. We worked with the Center for Pet Safety to crash test our crates in 2021.Learn more about crash testing here.
Shipping & Ordering
How long does it take to ship my order?

Each Rock Creek Crate is custom built in Utah under the highest standards. It generally takes 5-7 business days to build your order. Once it is finished, shipment duration typically ranges from 5-10 business days depending on your location.
How do I track my order? 

Click the "Chat with Us" button the bottom right side of your screen and then click "Track my order" under instant answers.
Can you ship to Alaska, Hawaii, or Canada?

Yes, email us and we'll get you a custom shipping quote depending on your location and country's customs.
How do I cancel or modify my order?

If you need to make a change to your order or cancel it, please contact us within 2 hours of placing your order.

*Good to know: Our goal is to process orders as soon as possible, so once an order is received we begin processing it right away. As a result, we are unable to guarantee any changes or cancellations made outside the 2 hour time frame.
Other
Do you offer a discount for military, law enforcement, or first responders?

Yes! Please email us photo identification to authenticate your position and we will email you a discount code for 5% off of your purchase. We greatly appreciate your service.
I lost the key to my crate. Now what?

Don't worry! We can get you a new one. Email us with proof of original purchase and we'll send you a new key.